The varsity sweater: peer of the poodle skirt, wholesome, All-American and fun. It's the quintessential 1950s teen look (see pic below, which I will translate to: "I can't believe I'm wearing his sweater! Jeez Louise, when's the last time he washed this thing, it's a little ripe…but no mind. We're going all the way at the Drive-In tonight for sure.").
The Varsity – or "Letterman" – sweater was a status symbol that indicated the wearer had achieved some level of excellence in a school activity.
Traditionally, the letter referenced your school. However, when I saw the opportunity to knit my own fake varsity sweater I decided to be a little more narcissistic, like Joan here: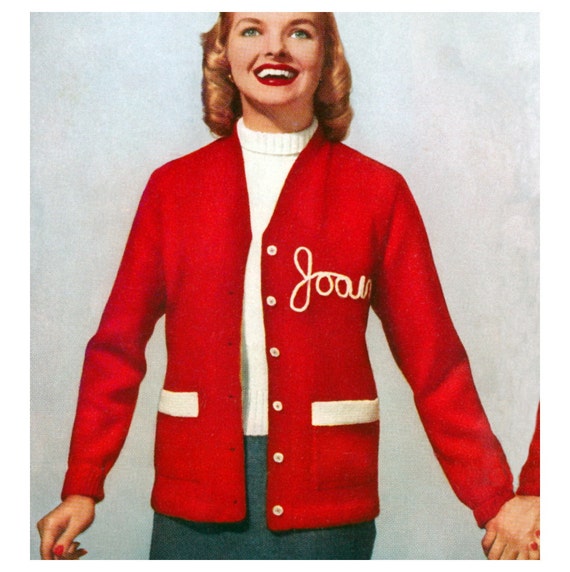 I think this pattern, by Andi Satterlund, is super boss. You can make your sweater in any colour combination that you fancy – reinvent your high school experience why dontcha, especially if it involved mean girls elbowing you in the stomach on the first day of school (yep).
After swaying back and forth, I suppressed my urge to do something crazy and went with the versatile black and white Andi modelled in her original. The monograms are included in the pattern as well, so no need to fear your "R" will come out looking like an ink stain.
Pattern: From A to Z by Andi Satterlund
Yarn: Knit Picks Wool of the Andes in "Cloud" and Black